Our Mission
We all deserve to shine as our authentic selves over our entire lives.If you share this belief, what is it that you need?
You need to believe in your youthfulness.You need to move forward, using your beauty as the driver.
At EFFECTIM, we offer an anti-aging skincare solutionthat transcends conventional beauty.This revolutionary new solution fuses physical energy from beauty devicesand life science energy from skincare itemsand then delivers personalized benefits based on skin diagnosis results.
Our beauty solution transcends the limits in step with people living longer livesand enjoying more freedom and diversity in how they live.
Our mission is to bring more fulfillment to people's livesby continuing to capture new beauty from one moment to the next.
Our Philosophy
To transcend the past limits of beauty,and activate the skin's power to maintain its youthfulness like never before.
We value the concept of AWASE as our philosophy.
We synchronize beauty devices and skincare to work together with your skin.
By optimizing the process when two things are combined and generating synergies,we maximize the benefits experienced by the skin.
This is the concept of AWASE,and the key to activating the skin's youthening power to reach the heights of beauty.
Our Promises
Anti-aging expert
EFFECTIM's three promises
Scientific evidence based on dermatological expertise
We do not talk about abstract results. We only offer a solution based on the latest dermatological research. We will continue to bring together the specialized knowledge of leading experts to pursue and deliver anti-aging skincare benefits that transcend the limits of beauty.
Methods and results you will want to continue
EFFECTIM delivers not only immediately visible results but also ways to control beauty and youthfulness while optimizing results through ongoing monitoring of customers' skin and analysis of measured data over time. We validate and research safety in a perpetual cycle so you can trust your skin to EFFECTIM over the long term.
Skincare regimen that feels good
The time you spend caring for your skin should be enjoyable and rewarding. This is another goal of EFFECTIM—to deliver products with a silky smooth feel wrapped in a high-quality Japanese modern design for a soothing and comforting beauty experience. The experience is the same, whether online or in store, as the pure satisfaction EFFECTIM brings comes through each and every time. This is yet more proof that you can trust your skin to EFFECTIM over the long term.
Our Customers

"I believe even when adversity strikes, a better future awaits as long as I put my best self forward."
"My skin is no different. I want to keep shining by pursuing the best solution for anti-aging skincare."
EFFECTIM is here to empower customers in this way.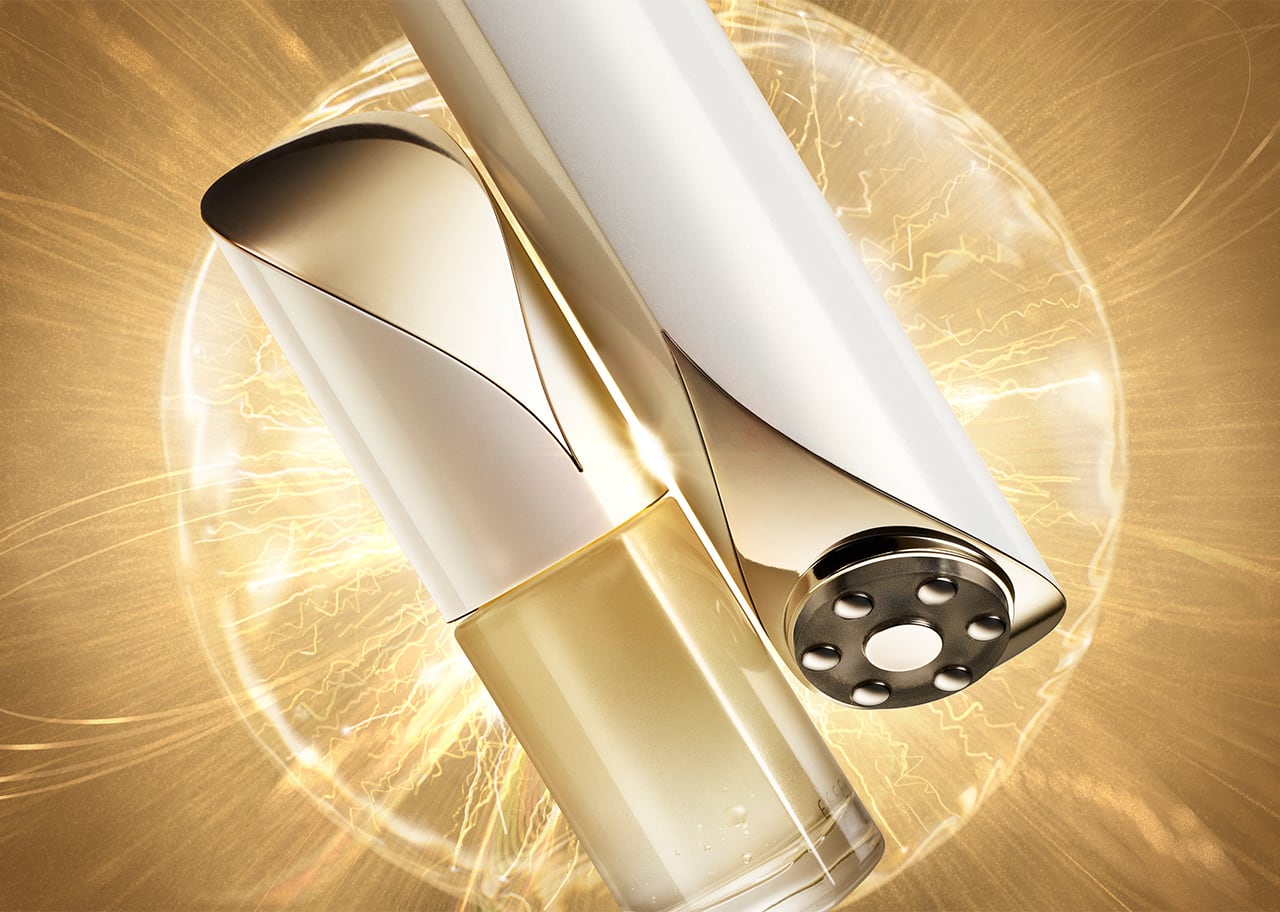 Our Solution
Begins with Skin Diagnosis
The Best Suited Anti-Aging Skincare Solution for You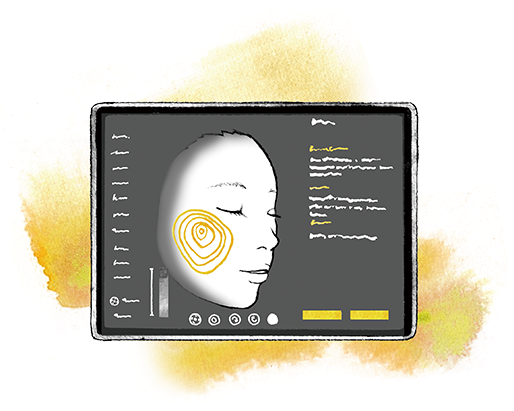 Getting to know your skin with our original 3D skin diagnosis technology.
We diagnose each part of your face in detail by taking a three-dimensional scan of your face with an original skin diagnostic tool. The tool brings together expertise from dermatologists and the latest advanced technologies to collect highly precise data and accurately analyze it in a matter of minutes. The results provide a diagnosis of the difference between your actual age and your skin's age, and the factors behind this difference.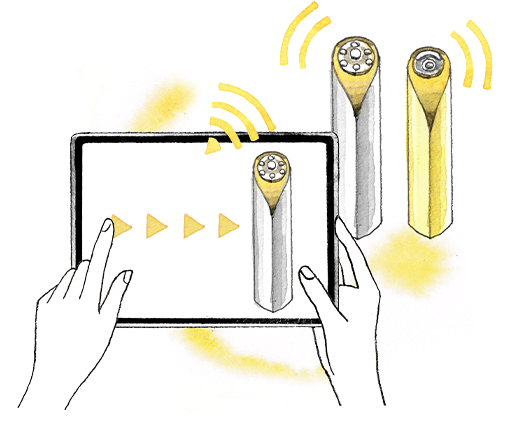 Waveforms emitted from the tool can be personalized in a setting to fit your skin.
Install the waveform program that is the most necessary for your current skin condition to a beauty device, which was chosen as the most suitable one based on the findings from the skin diagnosis. Delivering the most suitable energies to the skin so that a more effective skincare becomes possible.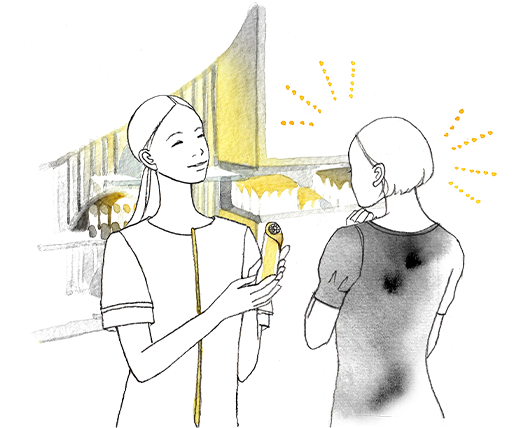 Ongoing support
We provide ongoing monitoring of changes on the skin with regular complimentary skin diagnosis service after the purchase. We also provide you advices on how to use the device depending on changes on your skin and update the setting for waveforms in your beauty device. A completely new anti-aging solution that senses changes on your skin and evolves by keeping up with your pace.
*Aging skin care means age-appropriate care using a beauty device and moisturizing care with skincare products.
Our Technology
Fusion of advanced technologies based on dermatological research
Beauty devices × Skincare
We want to improve the life of the skin. To achieve this wish, we have engaged in research taking hints from them.
EFFECTIM's beauty devices use original technology, called STEM Multi Force(STEM: Super Treatment Essential Method). Multiple forms of energy are simultaneously emitted from seven electrodes and target specific locations. This high energy efficiency enables efficient and intensive skincare.
STEM: Super Treatment Essential Method
And EFFECTIM's skincare items are formulated with concentrated beneficial components derived from advanced dermatology knowledge.
Through the physical energy of the beauty devices and the life science energy of the skincare products, we support the continuous creation of new beauty. We have brought unprecedented anti-aging skincare solution into the world.
Skin Diagnosis Technology
Without a complete understanding of a person's skin, we cannot arrive at the best answer for that person. For us at EFFECTIM, this means we must analyze the skin with the help of cutting-edge technologies.
We developed an original skin diagnosis tool based on the extensive knowledge of skin experts. It takes a three-dimensional scan of the face and analyzes each area of the face in granular detail. The tool brings together several of technologies to collect highly precise data and accurately analyze it in a matter of minutes. The difference between the actual age and the skin's age, and the factors behind this difference, are made crystal clear.
Then, based on the findings revealed by this 3D skin diagnosis, the physical energy emitted from the beauty devices is personalized for maximum effectiveness. The hopes for the skin are fulfilled, with waveforms selected from a vast number of waveform patterns.
Fulfilled hopes. Ongoing support.
EFFECTIM creates the best for you, now and always.
Based on the skin diagnosis, customers receive counseling from a coach with specialized knowledge. Members also receive ongoing support with services such as online counseling from a personal coach and regular skin diagnosis. This creates the system to continuously renew beauty over the long term, through frequent communication and regular skin condition checks.*service will differ in each region
Diagnosis with 3D skin diagnosis tool at store
Counseling based on skin diagnosis results
Personalized beauty devices and skincare
Diagnosis results and purchase
Regular 3D skin diagnosis service
The Design
The fusion of Japanese modern and functional performance
Straight lines and curves
Beauty and futuristic
Originality and lucidity
The design concept is the fusion of Japanese modern and functional performance. The concept of AWASE is also part of this. All design, including product design, involves the concept of AWASE, where two elements are woven together. The straight lines and curves and the simple yet original design make a lasting impression while embodying beauty and futurity. EFFECTIM's singular appeal is expressed by the combination of these disparate elements.